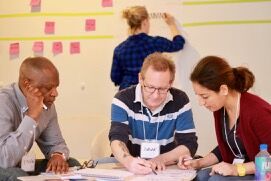 No Bad Meetings
That's not a fantasy. That's our motto.
In this era of teamwork and collaboration, some of us spend half our working days in meetings. We want to make this investment worth our while. Our goal is to banish unproductive jabber fests that waste time, energy and money and, worse, erode our patience and make us want to go and hide.
The secret is facilitation. It shouldn't be a secret. Anyone can learn to plan and hold a meeting where people make and commit to good decisions. (Well, maybe not anyone; but you certainly can.)
Everyone deserves a well-facilitated meeting that makes the most of the knowledge in the room. So, we (Sue Johnston and Ellen Grove) have combined proven facilitation practices from a variety of sources – both traditional and emerging – in a lively two-day workshop that prepares you to lead and engage in effective group collaboration. We'll also introduce you to visual facilitation techniques that bring impact and clarity to your meetings and decisions. It's not just about making good-looking material for you to use, but helping others bring their ideas to life through visual communication.
Trying to create fullwidth header
I had an opportunity to attend "Facilitation Skills for the Agile Workplace 2.0" taught by Sue and Ellen. They are both are amazing, talented and passionate facilitators. Course contents were very well taught and explained. Sessions had enough hands-on activities which helped us understand practical implementation of what we learnt.
WHO IS THIS PROGRAM FOR?
While anyone can benefit from learning to be a great facilitator, we've designed Facilitation Skills for the Agile Workplace with lean and agile practitioners in mind. Scrum Masters, Product Owners, Agile Coaches, Team Leads, Managers, Executives and anyone who needs to get people talking about their work and their products will find this workshop especially useful. You'll do well in this program if:

You're serious about excellence.
You believe people are capable of communicating effectively, given the right circumstances.
You're willing to step up and be a leader, from wherever you are in the organization.
You already understand the Agile mindset, values, principles and foundational concepts.
You're willing to be a beginner. This takes practice. You can't rush it.
WHO'S IT NOT FOR?
Anyone who is only interested in certification.
Someone looking for instruction in agile practices (SCRUM, Kanban, etc.)
WHAT WILL WE COVER?
During our time together, we'll cover these topics.  These are the basics of facilitation within the context of an agile workplace, as outlined in the learning objectives of icAgile.  
The facilitator's stance and mindset
The pattern of a facilitation (The Coaching Arc)
Facilitating team and agile practices
Team dynamics and development
Handling disruptions and disagreements
Creating visual materials to support effective discussion and decision making
And more. We meet the learning objectives of the International Consortium for Agile (ICAgile) ICP-ATF
WHAT'S YOUR REWARD?
Confidence – You'll know you've been trained to meet the standards of agile and professional facilitation.
Focus – You'll have a process to guide you and tools to help you plan effective group discussions.
Tools – You will have a set of tools to use to help groups gather data, explore and analyze issues, make decisions and follow up.
Certification-ready – Successful completion earns you the ICP-ACC certificate from ICAgile.
Better meetings – Your life will improve as your meetings become more meaningful. You'll love your work again.
Transferrable business skill – Being able to facilitate collaborative decisions gets you invited to participate in lots of interesting projects. It's emerging as THE top skill for the 20th century.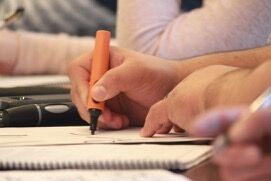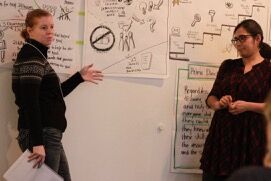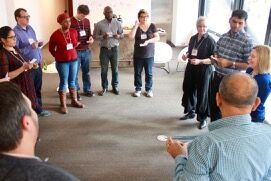 Accredited by ICAgile for ICP-ATF
2-day in person workshop
WHAT DO YOU RECEIVE?
Two solid days of participative learning (maximum 20 people)
Opportunities to practise what you're learning, in a safe, supportive environment
Learning using real world examples
Exposure to competencies of both professional facilitation and agile facilitation
Immediate feedback on your facilitation, from peers and instructors
Learner manual/workbook – a great resource when you're back at work
ICAgile Certificate on successful completion – ICAgile ICP-ATF
In-classroom snacks and beverages
Fabulous colleagues to learn with. This workshop attracts amazing people.

WHAT'S YOUR ENERGETIC INVESTMENT?
This program isn't one of those programs where you pay your money and you get a certificate. What good would that be? This is a course where you need to participate. While we can expose you to the theory and material, you learn to facilitate by trying things out. Experimenting. Seeing what happens. Adapting. Experiencing. Learning. And having fun. We learn better when we are laughing. To prepare:
Leave your work at the office so you can focus.
Get a good night's sleep.
Bring an open mind.
Be ready not to have all the answers.
And don't wear your party clothes – we'll be working with markers.

WHAT'S YOUR FINANCIAL INVESTMENT?
We've tried to keep things simple. Two days of training for $1,500 (+HST). A 10% "earlybird" discount applies up to four weeks before the start.  (Use discount code EARLYBIRD at payment process.) And you can pay by MasterCard or VISA.
Cost includes the ICAgile Certification Fee.
UPCOMING WORKSHOPS
Workshops will proceed if there are eight people registered 14 days before start
You are paying in Canadian dollars.
Ontario sales tax will be applied at checkout 
Quebec City June 1-2
In partnership with Elapse Tech
You are paying in Canadian dollars.
GST + QST will be applied at checkout 
Frequently Answered Questions
Will I automatically get a certification?
Short answer: No. The ICP-ATF isn't one of those certifications that you get just because you drop some money on a course. Your participation is important. You'll be sharing ideas, working with other learners and more. You're evaluation is your performance, particularly on the Day Two Practicum. But, trust us, you'll WANT to participate. This program attracts amazing people and is based on some super useful skills you'll be happy to try out in class.
Can I realy learn to be a great facilitator in two days?
The short answer is NO. However, our time together is long enough to get you started. The workshop version provides intense practice time, so you're immersed in facilitation for two solid days. The course will introduce the concepts and patterns of facilitation, with a focus on lean and agile work teams. Practice, over time, takes you the rest of the way. The only way to become a masterful facilitator is to do it – one meeting at a time.
Is there an exam?
There's no quiz or exam for this workshop. Your test is a practicum, where you'll be invited to demonstrate what you've learned in the context of a real meeting.
Do you discuss facilitating online and virtual meetings?
You betcha! Whether we like it or not, more and more meetings involve remote participants. The principles of facilitation are the same. Some of the specific techniques may differ.
There's a visual component. Do I have to know how to draw?
If you can hold a marker, you can manage visual work. This is about communication, not art.
What Our Learners Are Saying
Don't just take it from us, let our course participants do the talking!
Amazing class! I applied what I learned the next day and every day since. Sue and Ellen did a fantastic job facilitating and gave us tons of great techniques with enough time to practice. If you interact with people, take this class. You won't be disappointed.
Very insightful and helpful. Would recommend – and pay more – for this workshop.
Sue's relaxed and charming style lend credence to her message. Her delivery style and the materials that she shared are an asset to be treasured by anybody who is in the business of training or coaching.
Ashraf Naim
Agile Manager (and Professor)
Sue is a great teacher and facilitator. The course was well laid out and kept my interest and attention throughout. Sue's enthusiasm and support were awesome and I look forward to taking other courses from her in the future.Greg Salsman
Enjoyed the bits on drawing in quiet folks. Overall, engaging experience.
Great course. Arc of facilitation is awesome.
Sue Johnston's courses are always refreshing and energizing. She involves the participants and attends to their needs while she brings the wealth of knowledge and communicates it eloquently. We often underestimate the effort put in good facilitation and this course reminds me it's a lot of work to make the art of facilitation look like it is effortless and simple.
WHAT ABOUT CERTIFICATION?
We know that certification may be important to you. That's why we've worked to be sure this program meets both our high standards and those of the Agile world.


Facilitation Skills for the Agile Workplace also meets the learning objectives of ICAgile, an organization established in 2010, to support education in the Agile space.
As an ICAgile accredited program, we can offer offer internationally recognized completion certificates in the agile coaching track – leading to the ICP-ATF designation. It's exciting to be part of the process that is shaping training for our lean and agile community.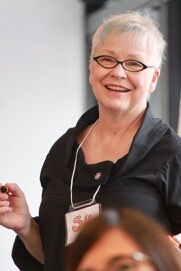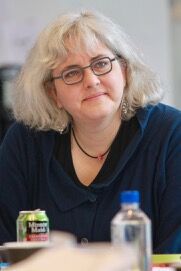 WHY SHOULD YOU LEARN FROM US?
We know facilitation – we've been doing it on the job, training and working with lean and agile teams.
We know what it takes to be Big-A Agile and to be little-a agile.
We know what works.
We know where to go for advice, information and good ideas.
We've been trainers for most of our working lives. (And have the grey hair to prove it!)
Sue Johnston believes that change happens one conversation at a time. Her role is to help that conversation happen – as a facilitator, coach, trainer and speaker. Her professional and academic interests have always been communication, teamwork and culture. A former news reporter, she spent a decade in corporate communication, where she was involved in large scale change and technology projects. One of those projects was an early foray into Extreme Programming (XP) – the genesis of Agile. 
Sue's been learning, teaching and practising coaching since 2003, studying with Neuroleadership Institute, Royal Roads University, SixSeconds EQ and Organizational Relationship and Systems Coaching (ORSC), among others. Sue was a founding member and has received coach certification (Master level) from the International Association of Coaching. She's the author of "Talk To Me: Workplace Conversations That Work." The International Association of Business Communicators has named Sue one of Canada's Master Communicators, for lifelong achievement in and contributions to the communication profession.
Ellen Grove calls herself "the world's laziest facilitator." This is not because she's actually lazy; it's a reminder to stay out of the way of the people who are doing the work when helping a group of people to get things done. From her very early days as a day camp counsellor to her current role as a business agility coach helping organizations make big changes in how they work, Ellen's facilitation strategy has always been to fully engage the participants in doing all the things that need to happen for groups to attain successful outcomes together.  
Ellen believes in the power of self-organization and playfulness: Open Space and LEGO SERIOUS PLAY are two of her favourite facilitation approaches for getting people to talk with each other about the things that matter so that they can do great work together.  Ellen also puts what she has learned in Organizational Relationship and Systems coaching, Bikablo Visual Facilitation, Training from the Back of the Room to use in her facilitation practice.  For more info about Ellen, visit https://www.linkedin.com/in/ellengrove/
Both Ellen and Sue are frequent speakers at agile events in North America.
WOULD FRIENDS AND COLLEAGUES BENEFIT FROM FACILITATION TRAINING?
BRING THIS WORKSHOP TO YOUR COMMUNITY OR ORGANIZATION
If you'd like to help organize a public workshop in your city – or would like this training for your team or organization – please contact Sue
If you have a number of people in your organization who want to learn facilitation skills to improve your workplace, please contact Sue and we'll talk.
If you've been to our workshop, or have seen us speak about facilitation at conferences, you'll be familiar with our Facilitation Planning Canvas. You can download a PDF copy here.