"No Bad Meetings"
That's our motto. Our goal is to banish unproductive meetings that waste time, energy and money and erode our patience.
We believe everyone deserves a well-facilitated meeting that makes the most of the knowledge in the room. So we've combined proven facilitation practices from a variety of sources – both traditional and emerging – in a two-day workshop that prepares you to lead and engage in effective group collaboration.
The next Toronto workshop will be May 6-7, 2019.
The next Montreal workshop will be in the fall.
Registration links are below.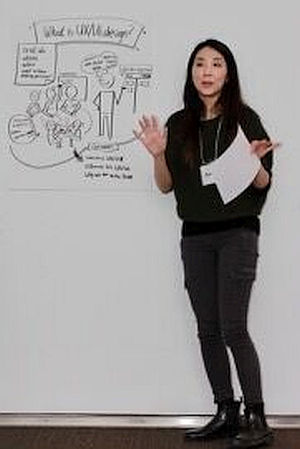 LEARN THE 21st CENTURY'S MOST VALUABLE BUSINESS SKILL – FACILITATION
You can bring value to almost any situation by allowing groups to:
Identify issues

Resolve problems

Set objectives

Define project scope

Improve the quality of their interaction

And more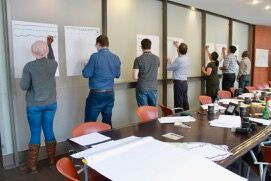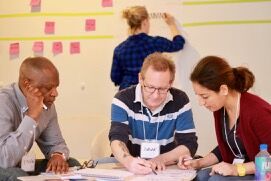 Facilitators help groups do their best work together and practice shared leadership. From solving problems to improving processes, skilled facilitators draw on a variety of techniques according to the people and the context.
Facilitation Skills for the Agile Workplace invites you to discover a range of facilitation practices that will equip you, as an agile coach, scrum-master or leader of any sort, to support the diverse team processes you'll encounter. From exploration to decision making, every group interaction presents unique challenges.
In this participative and practical workshop, you'll explore and practise group facilitation tools and techniques. You'll learn to design group meetings that engage the audience and result in agreed-upon outcomes. It goes way beyond "memorize these rules." You'll build your capability in a safe and supportive group environment and gain valuable feedback.
WHO IS THIS PROGRAM FOR?
This course is designed for agile practitioners and other leaders who face the daily challenge of supporting different groups of people in working better together. You will do well in this program if you have a strong desire to help people improve existing interactions or adopt new practices.
And though we offer one, if you're only interested in getting a certification, this is probably not the program for you.
WHAT WILL YOU LEARN?
The agile facilitator role and stance
Designing and facilitating meetings
Facilitating collaboration
Facilitating team decision making
Facilitating team and project chartering
Facilitating planning
Facilitating regular meetings
Facilitating retrospectives
Dealing with dysfunction, disruption and discouragement
. . .  and handling conflict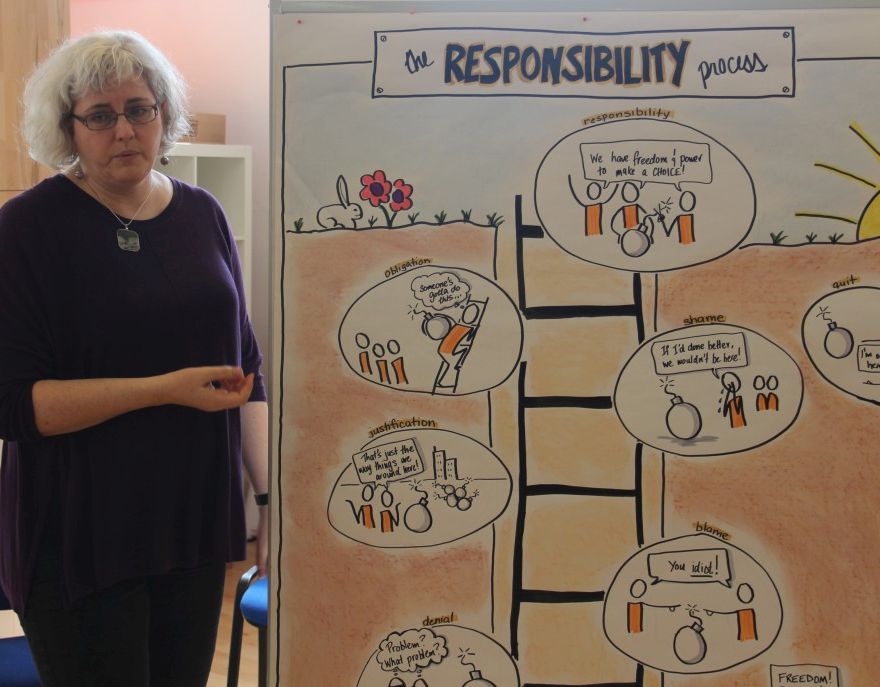 In Version 2.0, you get all this and more!
My friend and colleague Ellen Grove, a highly experienced coach, facilitator and trainer, will join me in co-facilitating this workshop. She'll bring exciting ideas and skill-building exercises from her highly-rated course in graphic facilitation. In our two-day format, you'll learn and practise the foundational skills for great facilitation to guide group decision-making and learning that have always been part of this workshop. PLUS you'll practise skills you can use to bring visual impact and clarity to your meetings and decisions. It's not just about making good-looking material for you to use, but helping others bring their ideas to life through visual communication.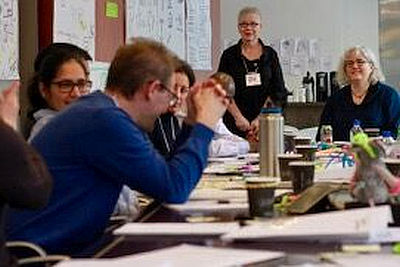 What some past learners have said . . .
Sue's relaxed and charming style lend credence to her message. Her delivery style and the materials that she shared are an asset to be treasured by anybody who is in the business of training or coaching.
Ashraf Naim
Agile Manager (and Professor)

I had an opportunity to attend "Facilitation Skills for the Agile Workplace 2.0" taught by Sue and Ellen. They are both are amazing, talented and passionate facilitators. Course contents were very well taught and explained. Sessions had enough hands-on activities which helped us understand practical implementation of what we learnt.
Sue Johnston's courses are always refreshing and energizing. She involves the participants and attends to their needs while she brings the wealth of knowledge and communicates it eloquently. We often underestimate the effort put in good facilitation and this course reminds me it's a lot of work to make the art of facilitation look like it is effortless and simple.
Enjoyed the bits on drawing in quiet folks. Overall, engaging experience.
Great course. Arc of facilitation is awesome.
Sue is a great teacher and facilitator. The course was well laid out and kept my interest and attention throughout. Sue's enthusiasm and support were awesome and I look forward to taking other courses from her in the future. Greg Salsman
Very insightful and helpful. Would recommend – and pay more – for this workshop.
WHAT'S YOUR REWARD?
Techniques – You'll have new tools to draw on to foster collaboration.
Alignment – You'll know which technique is appropriate for a particular group, purpose or context.
Fresh ideas – You'll learn ways to bring new energy to group activities of all kinds.
Confidence – You'll know you can assist group discussion in an effective and engaging way.
Clarity – Having a large toolbox and understanding which tool to use when will allow you to adapt with ease.
And if Certification is important to you – successful completion of Facilitation for the Agile Workplace earns you the ICP-ATF, one of two Continuous Learning Certifications (CLCs) on ICAgile's Agile Coaching and Facilitation track.

WHAT'S YOUR ENERGETIC INVESTMENT?
This program isn't one of those programs where you pay your money and you get a certificate. What good would that be? This is a course where you need to participate. While I can expose you to the theory and material, you learn to coach by coaching and facilitate by facilitating. That's what we'll be doing. Trying things out. Experimenting. Seeing what happens. Adapting. Experiencing. Learning. And having fun. We learn better when we are laughing.
To prepare:
Leave your work at the office so you can focus.
Get a good night's sleep.
Bring an open mind.
Be ready not to have all the answers.
Another benefit is that you'll meet some amazing people! The folks who are attracted to our programs have a wonderful mix of curiosity and generosity and a balance of head and heart. They're awesome.
WHAT'S YOUR FINANCIAL INVESTMENT?
We've tried to keep things simple. The introductory price for this TWO-DAY learning experience is just $1,350 (+ HST). That price includes training, supplies, workbook, snacks and beverages and the fee for ICAgile certification. You can register online and pay by MasterCard or VISA. If you would prefer to make two payments, we can arrange that.
Need a scholarship? We don't want money to be a roadblock for someone who'll be an awesome facilitator. Contact us. Maybe we can work something out.
So what's with this low price?
People tell me I should charge a lot more for this program. I get that. The value participants receive is much, much more than what I'm asking. However, I know a lot of people in our agile community fund our own training. I don't want someone who might be a great coach or facilitator to go without this training just because they don't have a lot of spare cash or their boss won't pay.
Need more info?
We're happy to offer this workshop as an internal program for your team.
Or we can bring it to your city. Contact us to learn more.