YOU WORK TO INSPIRE OTHERS – NOW IT'S YOUR TURN TO BE INSPIRED

All in person workshops are cancelled until further notice.
April, June and September workshops have been postponed due to Corona Virus
Scroll down for other dates and locations
The difference between an OK agile coach and a
fantastic agile coach is like the difference between
a cook and a chef.
A cook uses recipes. A chef uses the principles and techniques of food preparation.
A cook may experiment, with fingers crossed. A chef creates, with confidence and consistency.
A cook follows directions. A chef understands the ingredients, their chemistry and the circumstances that surround them.
A cook prepares a meal. A chef designs an experience.
And so it goes with coaching.
You can treat it like a cook – read some books, memorize key questions, repeat your favourite processes, experiment and hope for the best.
Or you can treat it like a chef – understand the principles, master proven techniques so that they come to you naturally, bring your experience into new contexts and participate in coaching conversations with confidence and ease.
Agile coaching may be a new profession, but professional coaching has been around since the early 1990s. There's a huge body of practice and knowledge, tested, proven and documented. The organizations that certify professional coaches have established competencies that can be learned and assessed. That's what we teach. Coach Skills for the Agile Workplace is based on the professional competencies established by coach training and certifying bodies – professional coach training in the agile context. Our program is also accredited by ICAgile and meets the learning objectives of its Certified Professional in Agile Coaching (ICP-ACC) designation.
Coach Skills for the Agile Workplace gives you the opportunity to practise and master the coaching techniques you need as an agile coach in a safe and supportive environment, so you can use them fluently on the job.
You'll practise coaching from Day One!
WHO IS THIS PROGRAM FOR?
While anyone can benefit from learning to be a great workplace coach, we've designed Coach Skills for the Agile Workplace with agile practitioners in mind. You'll do well in this program if:

You're serious about excellence.
You believe people are capable of more than they know.
You've seen good coaching at work and want to learn how to do that.
You've seen not-so-good coaching at work and want to learn how not to do that.
You already understand the agile mindset, values, principles and foundational concepts.
If you're going to be called an agile "coach," you want to be the best coach you can be.
You're willing to be a beginner. Masterful coaching takes practice. You can't rush it.
WHO'S IT NOT FOR?
Anyone who is only interested in certification.
Someone looking for instruction in agile practices (SCRUM, kanban, etc.)
WHAT WILL WE COVER?
During our time together, we'll cover these topics.  We'll cover the basics of professional coaching within the context of an agile workplace, as outlined in the learning objectives of ICAgile.  
The Coaching Stance/Mindset
Roles, Responsibilities and Skills of an Agile Coach
Coach, Teach, Facilitate, Mentor – What's the Difference?
Professional coach skills
Emotional intelligence
Helping create supportive systems and environments
Coaching in organizations
Understanding team development
Handling challenges, dysfunction and disagreement
And more. We meet the learning objectives of the International Consortium for Agile (ICAgile) ICP-ACC. We teach the coaching skills the International Association of Coaching has established to certify coaches.
WHAT'S YOUR REWARD?
Confidence – you'll know you've been trained to meet the standards of agile coaching and professional coaching.
Focus – when you don't have to wonder, "What do I say now?" you can focus on outcome, not process.
Comfort – you'll avoid the awkward uncertainty many agile coaches experience as you make the shift from being directive to being facilitative.
Improved interactions – using the coach approach smooths relationships.
Clarity – you'll know the difference between coaching, facilitating, training and mentoring and when to use each.
This was a great experience and the content was phenomenal. Also the way Sue conducted the workshop and all the activities planned gave me a very deep insight into the Agile Coach functioning especially in a very practical manner
Tanuj Maggon
3-day in person workshop
WHAT DO YOU RECEIVE?
Three solid days of participative learning (maximum 12 people)
Opportunities to practise coaching
Learning using real world examples
Exposure to competencies of both professional coaching and agile coaching
Immediate feedback on your coaching
Learner manual/workbook – a great resource when you're back at work
ICAgile Certificate on successful completion – ICAgile ICP-ACC

In-classroom snacks and beverages

WHAT'S YOUR ENERGETIC INVESTMENT?
This program isn't one of those programs where you pay your money and you get a certificate. What good would that be? This is a course where you need to participate. While I can expose you to the theory and material, you learn to coach by coaching. That's why we'll be coaching. Trying things out. Experimenting. Seeing what happens. Adapting. Experiencing. Learning. And having fun. We learn better when we are laughing. To prepare:
Leave your work at the office so you can focus.
Get a good night's sleep.
Bring an open mind.
Be ready not to have all the answers.

WHAT'S YOUR FINANCIAL INVESTMENT?
We've tried to keep things simple. Three days of training for $2,018 (+HST). A 10% "earlybird" discount applies up to four weeks before the start.  (Use discount code EARLYBIRD at payment process.) And you can pay by MasterCard or VISA.
Cost includes the ICAgile Certification Fee.
WOULD FRIENDS AND COLLEAGUES BENEFIT FROM COACH TRAINING?
BRING THIS WORKSHOP TO YOUR COMMUNITY OR ORGANIZATION
If you'd like to help organize a public workshop in your Canadian city – or coach training for your team – please contact Sue

UPCOMING WORKSHOPS
Sadly, all face-to-face workshops have been postponed until the late summer or fall due to Corona Virus
To register, click on the desired date/location.

Sessions will take place provided there are six registrations 15 days before the class start date.
Frequently Answered Questions
Will I automatically get a certification?
Short answer: No. The ICP-ACC isn't one of those certifications that you get just because you drop some money on a course. Your participation is important. You'll be sharing ideas, coaching other learners, being coached and more. There's also a quiz at the end. But, trust us, you'll WANT to participate. This program attracts amazing people and is based on some super useful skills you'll be happy to try out in class.
Can I realy learn to be a coach in three days?
The short answer is NO. However, our time together is long enough to get you started. The workshop version provides intense practice time, so you're immersed in coaching for three solid days. The course will introduce the concepts and patterns of coaching. Practice takes you the rest of the way. The only way to become a masterful coach is to do it – one coaching conversation at a time.
Is this ICP-ACC the same as coach certification?
You may well be an awesome coach when you complete this program; however, that is not what we are certifying.  
ICAgile's certification, at this level, ICP-ACC, attests that you have been exposed to material that is deemed by experts to be current, complete and consistent with their understanding of agility and, particularly, the Agile mindset. We're not assessing or endorsing your proficiency as a coach. There is another level, the ICAgile Expert-Agile Coaching (ICE-AC), that is competence-based and requires experience as well as performance. You can find out more about ICAgile's learning roadmap and certifications at  https://icagile.com/Learning-Roadmap/Agile-Coaching.
Along with issues specific to Agile coaching, at It's Understood, we teach and you practise using the coaching proficiencies used by organizations such as the International Association of Coaching and the International Coach Federation to certify professional life and business coaches. Our program is good preparation for further coach training and gaining the coaching experience that is required for certification as a professional coach by these organizations.
Is there an exam?
For the ICP-ACC, ICAgile does not issue an exam. It's up to the instructors to assess your learning. At It's Understood, we pay attention to your class participation and listen to you coach others in our practice sessions. There's also an online quiz, after the workshop, to review and lock in your learning. It's 36 questions, multiple choice, and you can do it at your own pace. Note: If you've been paying attention during the workshop, you should do fine on the quiz. 
So what's with this low price?
People tell me I should charge a lot more for this program. I get that. The value participants receive is much, much more than what I'm asking. However, I know a lot of people in our agile community fund our own training. I don't want someone who might be a great coach to go without this training just because they don't have a lot of spare cash or their boss won't pay.
Need a scholarship?
We don't want money to be a roadblock for someone who'll be an awesome coach. Contact us. Maybe we can work something out.
What Our Learners Are Saying
Don't just take it from us, let our course participants do the talking!
When I registered myself for this course, the only thing I had in my mind was certification. But after the second session, I realized that the amount of learning I would have at the end of the course would be phenomenal and the course definitely exceeded my expectations.
The participants were wonderful and the instruction from Sue Johnston has been top-notch. Five stars to her training and coaching skills. No certification would ever beat the amount of learning I have had from this course.
Learning amongst one's peers can be daunting for some coaches, however, Sue's light-hearted candor is so disarming, I felt I was in an emotionally safe environment right away in her classroom and was able to engage my classmates along with Sue in dealing with the toughest, long-standing questions I've had about how an agile coach should be. I highly recommend enrolling in and completing all of Sue Johnston's learning programs, wherever you are in your learning journey as an agile coach. I know I'm helping my agile teams much, much more now that I have. Ultimately, for strong, competent agile coaches everywhere, it's ALL about helping the teams and the client isn't it?
"Sue created a welcoming environment for our coaching circle. I enjoyed being able to practice my coaching skills in a safe environment where I could get feedback from Sue and other peers.
"I'd recommend this course because it wasn't solely about learning the techniques. Sue is a warm and compassionate person who brought not only her experience and skills as our facilitator, but also her passion for people.
"I feel I am a better coach now not only because of the material, but also because of observing how Sue facilitated the sessions."
"I had a feeling during the course that I am absorbing a lot by practicing. Sue's guidance is gentle, clear and she is able to explain very subtle differences that make a big impact on the effectiveness and the style of coaching.
"The group of participants was inspired and collaborative and it felt safe to communicate and learn. The course was well paced and enriched with lots of learning material.
"I would recommend Sue's course to anybody who is either new to coaching or wants to gain a new perspective on their coaching skills."
WHAT ABOUT CERTIFICATION?
We know that certification may be important to you. That's why we've worked to be sure this program meets the standards of both the coaching world and the agile world.
Coach Skills for the Agile Workplace is accredited by the International Association of Coaching (IAC), a body established, in 2003, for the purpose of certifying coaches worldwide, based on coaching competence, alone. We're licensed to teach coaches using the competency model it uses to assess the coaches it certifies – the IAC Masteries™.
We do not recommend pursuing professional coach certification without much longer and deeper coach training. However, this program will definitely get you set out on the right path. 


Coach Skills for the Agile Workplace also meets the learning objectives of ICAgile, an organization established in 2010, to support education in the Agile space.
As an icAgile accredited program, we can offer offer internationally recognized completion certificates in the agile coaching track – leading to the ICP-ACC designation. It's exciting to be part of the process that will shape coach training for our community.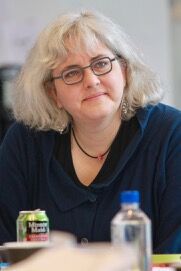 WHY SHOULD YOU LEARN FROM US?
We know coaching.

We know what it takes to be agile.

We're part of both communities.

We know what's available.

We know what works.

We know where to go for advice, information and good ideas.
Sue Johnston's interest in emotional intelligence led her to formal coach training, in 2003, and she's been learning, teaching and practising coaching ever since. Sue's early coach training was with Thomas Leonard, considered the "father of modern coaching." She was a trainer, teleclass leader and community manager at CoachVille, one of the largest coach training schools (and likely the most innovative). Her programs were Mastering Change and Corporate Coaching – right, smack dab in the environment where agile coaches operate. 
Some of her subsequent coach training was in the Advanced Coaching program at Royal Roads University, brain-based coaching with Neuroleadership Group and Organizational Systems and Relationship Coaching (ORSC). She is also qualified to interpret an array of psychometric assessments. Sue was a founding member and has received coach certification (Master level) from the International Association of Coaching. 
Sue's professional and academic interests have always been communication, teamwork and culture. She spent 10 years as a reporter in daily news before moving to the corporate world, where, as an employee communication specialist in a giant Canadian bank, she was involved in large scale change and technology projects. When friends introduced her to agile software development, it all sounded strangely familiar. Teams, co-location, pairing, business reps on the team, people first. She'd seen it before, as a user documentation and training person – and the unofficial "team expert" – on a mission-critical software project at BMO in the '90s. They were using SmallTalk, which, it turns out, was the genesis of Agile! She's also a coach and trainer at Leanintuit, a partnership of agile professionals working to help teams and organizations adopt and adapt new ways of working together. Need more? See About Us.
Ellen Grove, our friend and colleague, is an Associate of It's Understood and a principal at Agile Partnership. She's an Agile coach and trainer with over 15 years' experience leading software testing, development, and implementation teams; a passion for exploratory software testing and user-centred design; and a background in community organization.
As an Agile coach, Ellen has worked with organizations of all sizes – from software startups to public sector agencies and global data networking enterprises – to help them transition to Agile work at the team and leadership levels using Scrum, Lean, Kanban, SAFe and other Agile frameworks. In addition to holding an Honours Bachelor of Arts & Science degree from McMaster University, Ellen is a Certified Scrum Professional, certified in Prosci Change Management, an Open Space facilitator, a StrategicPlay® certified facilitator in LEGO® SERIOUS PLAY® methods, a certified Training from the Back of the Room trainer and an Organizational Relationship and Systems Coaching (ORSC) trained coach. Ellen is a lead organizer of several national and international agile conferences (most recently, Agile Coach Camp Canada, Play4Agile North America, and Agile India)
Andrew Annett, who advised on the program, has been a practising agile coach since 2009 and a professional coach since 2010. He's certified in brain-based coaching through Neuroleadership Group and is also qualified to administer the EQi emotional intelligence assessment.
Andrew's been studying the impact of computers on business and people since he bought his first Kaypro in the '80s. He's worked at introducing, implementing or integrating technology throughout his career. He's worked in large financial services organizations, technology giants and IT consultancies and is a veteran of several organizational transformation initiatives and many large, complex product delivery programs.
An agile practitioner with an MBA and a PMP, he connects the worlds of classical project management and agile practice. He has a gift for explaining technology in ways that non-techies understand. He currently works as an enterprise agile coach in an organization facing the challenge/opportunity of growth and change.

All of us are frequent speakers at Agile-related events and conferences. 
If you have a number of people in your organization who want to learn coaching skills for the workplace, please contact Sue and we'll talk.