"You may say, "I don't have a creative bone in my body." Not true. We're going to help you find that creative bone!"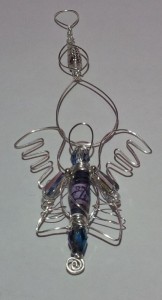 Those are the words of Carolyn Dawn Good, a Kitchener artist and community catalyst I often describe as "the most creative person you will ever meet." I write about her today for two reasons.
One, it's Day Four of the 12 Days For Good, in which House of Friendship reminds us that giving at this time of year isn't just about presents. And Day Four = Creativity.
Two, I spent a few hours with Carolyn, today, rolling paper beads. They will become works of art, like the angel pictured. And, yes, you can have one, too. (We were at The Generous Host, a lovely oasis of creative energy.)
There's a story, of course, one of hope and transformation and drama and, yes, the involvement of a creative community.
It all began with a house fire in Carolyn's downtown neighbourhood. It was a mess – not just the physical structure, but the financial picture and the impact on the family. The house had good bones and more than a few people saw possibility beyond the damage. Angels from the community, Carolyn among them, pulled together to mop up and begin repairs. The vision is not just to salvage this house but to transform it, and include a creative space the community can use.
Which brings me to the beads. The paper being transformed into angelic artwork is printed with photos taken just after the fire. From ashes to angels. Masterpieces from a mess. Horrifying to heavenly. Terror to treasure. I'll stop the alliterative sloganeering, you get the picture. If not, here's a real picture.
Carolyn is usin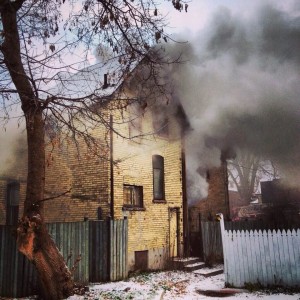 g the beads to create original numbered works of art – angels and stars to trim a tree, hang in a window, give as gifts, inspire your own creativity. And, you guessed it, most of the funds raised from sales will go to help fund the house restoration. Two-by-fours and two-by-sixes aren't glamorous gifts, but they matter to builders. Angels sales will contribute.
This project exemplifies creativity. People from all walks of life, businesses, builders, neighbours, strangers, individuals and communities opened their doors, their wallets, space on their calendars to bring this idea to life. Yes, creativity is in the artworks, themselves, and the artistry involved in the restoration. Yet creativity is also in seeing the possibility in situations around us.
Creativity is not just in the creative arts. Creativity is as useful in business as it is in the arts. A recent Fast Company article suggests the characteristics artists need and use are increasingly valuable in business.
As a coach and a trainer of coaches, I'm dedicated to the International Association of Coaching's Mastery #8 – Invite possibility. When we see things from a new perspective, welcoming the unexpected, tugging on the threads not usually seen, we open up a range of creative options that help us transform our work, our lives and our world. "What else might be possible?" is a very powerful question.
All people are naturally creative and resourceful. Most of us are at our best when we are using our creativity. For some of us, our creative streak is in the arts. For others our creativity is not where society traditionally looks for it, but in finding new ways to get things done. We may be software developers, construction workers, barristas, municipal employees, parents or postal workers.
Where is your creativity?
How can you unleash it today?
This is a series inspired by House of Friendship Kitchener's 12 Days for Good project. There's a theme for each of the 12 days – Calling Birds required. Learn more at http://12daysforgood.com