I recently posted: "Google before you Tweet" is the new "Think before you Speak." Since things posted on the Internet are forever, I thought I'd remind myself and others that it's good to verify your information before pontificating. (I have snopes.com on speed dial.)
The same is true for reading the content before we share on facebook or retweet a link. Actually reading and checking what we post can preserve the illusion that we are intelligent beings.  Otherwise we risk sharing something incorrect or inappropriate or pass on, as truth,  satire from The Onion or Mooscleans.
Being asle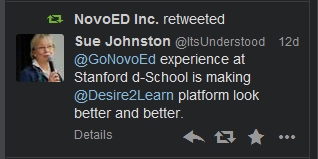 ep at the wheel when you are posting as yourself is merely embarrassing. But when you're posting on behalf of an organization, it's criminal not to have your brain in gear. So I was puzzled, today, to see a retweet of something I posted a couple of weeks ago.
Is this an organization rubbishing itself? Or is someone simply not reading and thinking before posting?
NovoED is the learning platform for an online course I'm taking. (A MOOC with thousands of participants.) Desire2Learn, based in my community, would seem to be a rival in the ed-tech space. (Yes, I Googled that before pontificating.) So why would NovoED repeat a plug for D2L?