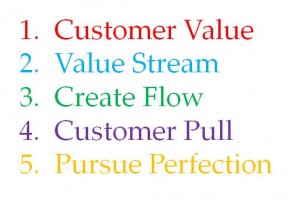 I'm getting lean. Alas, this is not about my body. It's something I'll call "lean communication." I'm not about to preach on short sentences and plain words, though that can be part of it. I'm convinced that good communication reduces waste.
In manufacturing, the concept of "lean" describes practices that use fewer resources to provide greater value to customers. Anything customers don't value enough to pay for is considered "waste," something to eliminate. Lean practices originated in manufacturing in the 1940s, when Taiichi Ohno introduced them at Toyota. Over the years, they've been adopted and adapted in many contexts, including lean startups and lean software development.
When I look at the ideas I use with my communication coaching clients, I see a lot of overlap with lean principles, particularly those set out by the Lean Enterprise Institute. I've paraphrased them, but you can find the original version here.
1. Establish value from the customer's perspective
This is my top tip for communication. I never tire of sharing it because it works so well. The audience for any communication might be considered your "customers." The more you can make your communication about them and their needs, the more likely you are to be listened to, heard and understood. Whether you're addressing one person or 100, in conversation, in presentations, in broadcast or in writing, you can almost never go wrong if you explain your point from the perspective of your audience. You make people care about your message by answering their question, "What's in it for me?" (WIFM) That's the value will it have for them. When you talk about anything they don't value – no matter how much you love it – you waste your time and theirs. (more…)