"The big secret in life is that there is no big secret. Whatever your goal, you can get there if you're willing to work."
– Oprah Winfrey
Our services are designed for people who are willing to work to reach their goals. They know it's worth it.
Could the people in your organization benefit from building better relationships through conscious communication? Let's help them find out. From Lunch'n'Learn sessions to full-on multi-day learning programs, our communication courses, keynote talks and conference sessions can be customized to suit your audience.
Learn more about how our talks and trainings can help you and your team.
We've observed that developing coaching skills improves people's lives. We become more effective leaders and managers. Our communication skills improve exponentially. And people respond to us in new ways when we bring out their best.  Nowhere is this more evident than in the workplace. Our specialty is working with the agile community, training coaches who work to help teams work together in new ways. We help agile practitioners learn or deepen their coaching skills. Our program meets the standards of certifying bodies in both professional coaching (IAC) and agile practice (icAgile).
Learn more about our coach training.
Change takes time and attention. That's why coaching is so effective. Focused attention paired with continuing support from a coach helps you move in the direction you want to go. Whether in individual sessions or in a small group, coaching helps you think things through then take action. Our specialty is interpersonal coaching, helping you and your team members develop the habits of conscious communication. Sue has been awarded the titles "master communicator" and "master coach" and shares her expertise with others as a coach and trainer of coaches.
Learn more about how coaching and communication coaching can help you and your team.
Assessments can be useful in helping us better understand human behavioral preferences, strengths and motivation – our own or someone else's. Knowing what drives us and others lets us develop ways to communicate more authentically and effectively. We're trained and qualified to administer and interpret several psychometric assessments – and help you understand what the findings mean for you and what to do about it.
Learn more about how our assessments can help you and your team.
Content facilitation – that's what good trainers do.
Process facilitation – that's helping people have productive conversations that lead to good decisions.
As someone dedicated to effective communication, Sue is trained and experienced in both forms of facilitation.
She also teaches others to do it and can provide a one-day facilitation course or a two-day program designed for agile coaches based on the learning objectives of the International Consortium for Agile.
She's also a qualified and experienced Open Space facilitator. This is an amazing way to help large groups share ideas with each other for problem solving, conflict resolution or learning.
To learn more, contact Sue.
Sharing ideas with others can be one of life's great pleasures – but not if you're fearful of speaking in public. We've designed Speaker Circles to take the scary out of public speaking. Our proven system helps you express your ideas in your authentic voice.
Our Speaker Circles program puts you in front of a friendly, supportive audience that helps you learn and flourish as a speaker. It's no longer one of our regular public offerings; however, we are happy to offer it as a program for your organization, either as a 3-day program, or six half days over six weeks.
Contact Sue for info.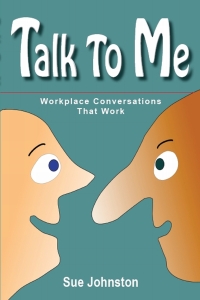 Sue Johnston is the author of "Talk To Me: Workplace Conversations That Work," which follows the adventures of a project manager as he learns to communicate effectively (with the help of a coach). Part story, part workbook, it introduces you to several important principles of conscious communication.
Learn more about how Talk To Me can help you and your team.
So what's it like to work with us?
We believe that anyone motivated can learn to be a good communicator – and we know it doesn't happen overnight. Based on what we've seen so far, you can expect the following results:
The quality of conversation improves, almost immediately.
There's something valuable in simply being aware of communication. Together, we shine a light on what's happening in your workplace – conversation patterns, habits, content, context, timing and styles – and people often notice a sudden improvement. Of course, a lasting improvement only comes when you actually work at changing conversation habits over time.
People will talk about important things.
Once you create a culture where it's OK not to have all the answers, the content of the conversation moves to what's important to your business and your success. Debates on whether the office blinds should be open or closed fade into memory as people learn ways to share their honest questions and opinions without fear. People discuss ways to get the job done – and then they do it.
Agreement means more than bobbing heads.
As you practise setting realistic expectations and accepting reasonable commitments, agreement starts to mean something. You can rely on people making reliable promises and keeping them. If we work with you, alone, you become the role model for conscious commitments. When we work with your team, results come faster.
Your meetings matter.
When conversation is well directed, the time you spend in meetings is an investment that pays off. Real issues surface, discussion is productive, decisions are made and plans established. People know where they're going. And so do you.
You feel relief.
When you can talk about the issues, identify the needs, and establish clear priorities, balancing the competing needs of bosses, employees, colleagues, clients and others gets a whole lot easier.
You press the "Shift" key. Change happens. You feel a sense that things are under control – without feeling you have to control them.
You know everyone's doing their job. People are "all on the same page." Or they can get there. You see proof that you're a good manager on a good team and you all can succeed.
You are understood.