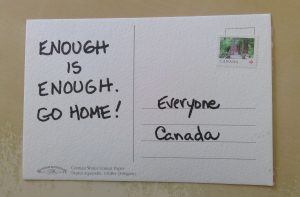 Except for people providing essential services and a few idiots, most of us are in the second week of self-isolation due to COVID-19. Whether it's lock down, shutdown, quarantine or social distancing, scads of people are now working from home. Nobody knows for how long.
As businesses scramble to get set up with communication and collaboration tech tools to keep the wheels of industry turning, I thought I'd write a series of posts to share what I've learned in 26 years of working, teaching and learning from a computer connection.
THIS IS NOT NORMAL TELEWORKING
The first thing to remember is that, night now, we're working from home as a result of a pandemic. Anything that anyone, including me, tells you about their past teleworking experiences needs to be viewed through a lens of "this ain't normal." This is not an experiment. We're not doing this to save money or travel time. We're trying to slow the spread of a deadly virus. Government health departments and, in some places, uniformed officers, are telling us to stay at home, for our own sake and that of others. People are, justifiably, distracted and concerned and that will affect everything they do.
Any organization that thinks people working from home will produce the same amount and quality of work as they did in the office is in Fantasy Land. In normal times, there's a productivity drop, at first, as people sort out the procedures and processes involved in teleworking. In normal times, they're not working with concern for their health, their loved ones, their jobs, the economy and the food supply. Lower your expectations. (This applies whether you are the boss or an employee.)

THE BIG IDEA
Remember you're dealing with humans. Tools and processes matter but, despite what the vendors claim, they're not the key to working at home. What matters is human connection. We're a social species. Even when our work can be done solo, it's important for us to know we're working together, part of something bigger.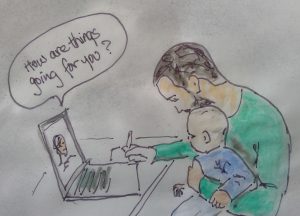 I was part of a team that started working from home in the early 1990s. As teleworking pioneers, our tools were lousy, by today's standards – PCs on modem dial-up to a LAN/WAN, IBM's chat tool, no email, no Internet, no printers, and the ability to call into a teleconference line. As we quickly learned, the tools were not going to be the key to success.
We made being remote work through reaching out to each other. We used that conference line for a quick early morning meeting to check in with each other and synchronize our work. (Agilists will recognize this as a virtual stand-up.) We used the chat system to share personal news, vent frustration, celebrate milestones, post dumb jokes. (This was before the era of cat photos.)
As managers, my boss and I felt we had a responsibility to keep people connected to each other and to the organization. He and I chatted every morning – a virtual coffee break. I did the same with my team in the afternoon. We made it very clear, by the nature of the conversation, that we were checking in, not checking up. This was critical in our time of change. It's more critical, today, as people deal with additional burden of uncertainty and worry caused by the pandemic.
Invite your team to design its own ways of staying in touch and keeping the human connection going. Keep activities optional. Not everyone wants to attend a Zoom Happy Hour.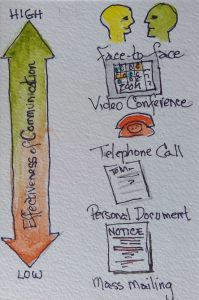 COMMUNICATION
All forms of communication become critically important when you are not face-to-face. The illustration to the right shows what communication professionals call "media richness." We get the most information from a face-to-face discussion. (I currently believe there's an even higher level – face-to-face with a whiteboard. But that's a topic for another day.) The least info is conveyed by a poster or mass mailing.
When we're together, we don't rely on words, alone, to convey our meaning and intent. We have tone, body language, pace, intensity, volume. When we have only words, such as when we're sending a text or an email, we must be careful about our choice of words. You're not just responsible for the message you send; you're responsible for the way it's received. Be sure your intent and meaning are clear.
Give everything a "tone check" before you hit [Send]. And don't rely on emojis to convey your tone. Your cute little grin may not travel well across platforms and applications. Instead, be conscious of your words and explain your meaning clearly.
You may recall that inside your mobile phone, there's an actual phone. A call may not be as effective as a face-to-face conversation, but it's kilometers ahead of anything you can write and probably a lot faster. Whatever method you use to communicate, your investment of time and effort in being clear will avoid misunderstanding, speculation and all the ugliness that can accompany them.
Up next: Teleworking tools
Coming soon: Distractions, staying sane, online training.