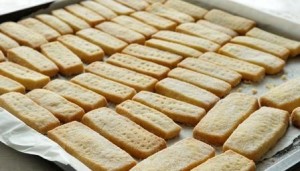 I am about to wander downstairs and make shortbread, as generations of women in my family have done and will continue to do long after I am gone. Shortbread, fruitcake, mince tarts, pfeffernüsse, stollen, bûche de noël and tourtière are baked into our Christmas traditions with varying amounts of cinnamon, cloves, ginger, almonds and way too much butter.
Acknowledging that there are people in my family (and, perhaps, yours) who question whether fruitcake is food, or even edible, it's safe to say that Christmas baking is about more than nourishing our bodies. We nourish traditions. We feed memories. We satisfy a craving for a time – real or imagined – when Christmas wasn't about spending money but about spending time together.
When we nourish someone or something, we provide them with food and other things needed for health. We help them develop or grow stronger. Providing food is the most obvious form of nourishment. Today our local food bank put out a call for the most useful donations:
Peanut Butter
Beans in Sauce
Canned Fish
Canned Fruit
Cold Cereal
We also nourish spirits, our own and others.
Music nourishes my spirit, especially this time of year when some really excellent music can be found. We learn to tune out the ubiquitous drone of 'Santa Baby' and 'Jingle Bell Rock' and track down the carols and anthems that have been treasured through decades, if not centuries. (Speaking of which, I cannot resist the opportunity to promote our concert, tomorrow evening.)
What nourishes your spirit? Meditation? Prayer? A walk in nature? A call from a friend?A call to a friend? I'm betting it's not fruitcake.
It's easy to lose track of that side of ourselves in the pre-holiday rush at work, the gifts, the greetings, the tree, the travel and, yes, even the baking.
What are you nourishing?
Who are you nourishing?
How can you nourish yourself?
This is a series inspired by House of Friendship Kitchener's 12 Days for Good project. There's a theme for each of the 12 days – no golden rings required. Learn more at http://12daysforgood.com