My email and Twitter feeds are generously sprinkled with messages from tool vendors and consultants pitching their solutions to this new challenge of Working From Home (WFH). I want to scream, "This is not teleworking. This is staying at home in a pandemic and trying to work."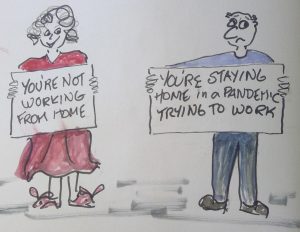 Tools aren't the WFH solution, no matter what tool vendors, your boss, the IT department or some dude on Facebook tell you. I'm married to Gadget Guy. As a result of that happy union, and having worked from home since the '80s, I've accumulated heaps of teleworking tools and toys. Speakers, microphones, lights, cables, software, furniture, coffee makers. What do I use? Not many.
As I wrote in Part 1, when you're WFH, tools are less important than behaviour. I can't overstate the importance of the human aspect of working at home. It was always important; now, more so, since we're working in a cloud of uncertainty.
Still here are a few things I've learned about WFH tools.
Team Agreement
This may be the most important WFH tool. Best created as a collaborative effort, it sets out how you're going to work together. It's formal, but not immutable. It will evolve as you learn what works for your team.
A team agreement sets out such things as:
How will we communicate? What tools for what type of communication?
What are our core hours?
How will work get done?
Where is information stored?
How will we define success? How will we measure that?
Whose Internet connectivity is iffy – or nonexistent?
Who is also responsible for looking after children or others?
Realistically, how productive can we be?
Space
Under normal circumstances, it's best to have a dedicated place you can call your home office. But these circumstances aren't normal. You may be sheltering in place with roommates, spouse or children who are also working from home. And pets.
Privacy may be impossible. As best you can, carve out some turf for everyone to assemble the stuff they need to do their jobs.
Find a box where they can put that stuff at the end of the work day. (See Habits, below.) Especially important if you have toddlers or pets who might mistake your stuff for playthings.
Get as comfortable as you can. Your chair will be important. So is lighting, both for doing your work and any video calls you may be on.
Find a way to communicate with others in your household when you'll be on a call. That way they won't be blasting Lizzo or walk into your Zoom call in their underwear. (Yes, we have seen this.)
Communication Software
Speaking of Zoom, there are a gazillion of remote communication tools available. Don't use too many. When you need to find information someone sent you, you don't want to have to check email, Slack, Trello, Sharepoint, the google drive and voicemail. (See team agreement, above.)
Pick tools that are easiest to use and learn how to use them. But don't make things complicated. Just because Zoom has polls and breakout rooms doesn't mean you need to use them.
Video will be important. The information richness chart (see Part One) tells us communication is more effective when we are face-to-face. Unfortunately, the signal may degrade the group is large and all are on camera, so you may, sometimes, need to make a tradeoff.
Still with Zoom or any video tool, get some light on your face so people can see you.
Keep calls as brief as possible. Or take breaks. Nobody wants to sit on a video call for more than 40 minutes. Even that's tough.
And don't have people there who don't need to be.
Phone people, now and then, just to see how they're doing. If you're their boss (or whatever the term is this week), make it clear that you're checking in, not checking up.
Habits
Get dressed. Sure, you could work in your jammies, but don't. If you operate as if you are "going to work," you will feel more professional.
Eat lunch. Hide the snacks.
Know when to knock off. You may not be able to leave your home "office," but you can leave the work. So do. (After decades of WFH, I still haven't quite got the hang of that habit.)
Take breaks. Step away from the computer. Walk the dog. Schnoogle the cat. Sing a song. Bang on the drum (but not all day. Sorry Todd Rundgren.)
So the big idea is: Don't stress about the tools. Do the best you can with what you have. Do what's really important. Don't expect yourself – or anyone else – to be as productive as you are in your workplace. And remember we're all human.
SUPER REFERENCE – LISETTE SUTHERLAND – COLLABORATION SUPERPOWERS
If you want excellent tips and resources for teleworking, head to Collaboration Superpowers, where our friend Lisette Sutherland has assembled tips, tools, resources, podcasts and workshops, all dedicated to working from home. When the coronavirus hit and people started working from home, she set up a How To page. https://www.collaborationsuperpowers.com/covid19/ It's loaded with ideas and links to more resources.